Check out
From Dates to Diapers
Fun in the Sun gift pack give away and enter to win!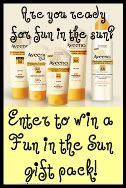 How to stay cool in the Summer:
I live in AZ and the best tip is to stay indoors during hot temperatures, unless you are able to cool off at a pool, use sunscreen the higher SPF the better. We drink plenty of fluids throughout the day and the kids usually play outside in the morning or evenings.